Wine Country Tour by Horse and Carriage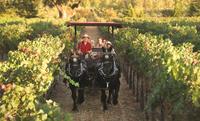 Travel by horse-drawn carriage through the vineyards of Sonoma County to three award-winning Healdsburg-area wineries. First, indulge in a wine cave tour, barrel sampling and wine tasting, and then enjoy a 2.5-hour cross-country adventure through
creeks, over hills and along the vines to two more stellar
wineries. Along the way, enjoy spectacular vistas, a
bounty of gourmet snacks and chilled spring water. Receive an entertaining perspective of local history, as well as information regarding vineyards, grapes and winemaking. Savor the relaxed pace while leaving the traffic far behind.On a carriage drawn by two magnificent draft horses, travel through the vines and winding lanes to tastings at award-winning boutique wineries in Sonoma Countyís Alexander Valley. The tour begins with a guided stroll through the Gothic-style vaulted chambers of the Alexander Valley Vineyardsí wine cave filled with oak casks from which you will be offered a barrel tasting. After indulging in a delightful sampling of their wines, board the waiting carriage and set off on a 2.5-hour cross-country adventure through creeks and between grapevines to tastings at Soda Rock and Hanna wineries. Along the way, relax and socialize while enjoying the sights and smells of the picturesque vineyards and vistas of the coastal range.The wineries visited are family-owned gems with award-winning wines, distinctive architecture and intriguing histories. Youíll be offered premium tastings of diverse varietals, such as crisp sauvignon blancs and buttery chardonnays, spicy old-vine zinfandels and hearty cabernet sauvignons, all served with a casual and gracious hospitality. Gourmet snacks are provided to enjoy along the way, including locally sourced organic cheese and apples, seeded bread sticks, herbed nuts and dark chocolate. Non-spill wine cups are available to keep the party going while on the trail! The carriage has cushioned seats and provides a smooth, comfortable ride with a fringed shade top. You can even reach out and pick grapes from the vines along the narrow lanes without spilling a drop from your wine glass! Your coachman guide is informative and entertaining, with an insiderís view of local history, little-known facts, the life cycle of the vines and the winemaking process. The gentle steeds are the charismatic stars of the tour, and spending time with them will delight your soul and is sure to be a highlight of your vacation. This is more than a wine tour. Itís a romantic and thrilling adventure with an intimate backstage look into the world of California wine!