Temecula Wine Tasting by Hummer from Palm Springs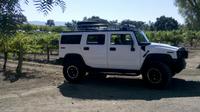 Taste your way through the Temecula wine country on this 7-hour tour from Palm Springs. Gather your closest friends and family and hop in an H1 Hummer for an unforgettable wine tasting excursion to some of Southern Californiaís best wineries. Your friendly, knowledgeable guide will share information on this beautiful and alluring wine region as you sip pinot noirs, sauvignon blancs, cabs and more. Donít miss this wonderful day trip from Palm Springs. Your guided Temecula wine tasting
tour begins with hotel pickup by H1 Hummer. Enjoy the views as you depart Palm
Springs and travel over the mountains, looking out on the valleyís
dramatic landscape. Soon youíll arrive in the Temecula wine country.Some
of Southern Californiaís best wines are produced in this valley
southwest of Palm Springs, thanks to its Mediterranean-like climate
(warm days and cool nights). Grapes for making syrah, grenache, tempranillo
and sangiovese thrive across the regionís more than 3,500 acres (1,416 hectares) of
vineyards. Upwards of 40 wineries showcase the best of the best in
upscale tasting rooms, but dont expect a Napa vibe; Temecula is more casual than its northern counterpart, and people often pass on fine wines for the popular almond-infused sparkling wine.While the
almond wine might flow, your tour focuses on classic red and white varietals at
three wineries. The tour operator specializes in going to hard-to-get-into vineyards that have won 4 stars or more for their wines. Let your nose and taste buds, and the sommeliers, guide you
through the differences, as you taste up to 18 wines throughout the day.
Listen as your friendly, knowledgeable guide offers insider tips and
information about the wines and the region.Midway through the day, relax at one of the wineries as you sit down for a leisurely lunch of sandwiches and beverages. Continue tasting wines after lunch until itís time to head back over the mountains to Palm Springs, with drop-off at your hotel.Please note: Dress comfortably in light, layered clothing. Temperatures can vary as much as 50 degrees between the desert and the wine country.