Spanish Wine Tour from Madrid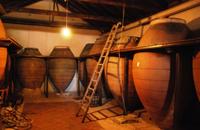 Leave Madrid and head to the hills to learn about Spanish wine on this full-day tour! With an expert guide at your side, visit the Vinos de Madrid winemaking region and tour three esteemed wine estates in the area, known as ëbodegas.í Explore their cellars, sample their produce and learn about the area thatís supplied Spainís capital city with stellar wines for centuries.Numbers are limited to 19 on this small-group tour, ensuring youíll enjoy personalized attention from your guide.Leave central Madrid and head into the surrounding countryside, passing through the sleepy villages and meadows that typify the area. As you travel by air-conditioned minibus, your guide will talk to you about wines made in the area surrounding Madrid.About 19 miles (30km) away from the capitalís center, youíll find yourself in the heart of the Madrid's main winemaking area, known as Vinos de Madrid ñ a Spanish Denominaci≥n de origen (DO) territory. All wines produced here adhere to strict production guidelines so they have are able to proudly display the DO Madrid labels on their bottles ñ an indication of the region's high-quality wine.The area boasts a real mix of traditional and contemporary wineries, all dotted around an area extending from the central mountain range to the Tagus River Valley. Visit three of the regionís best estates to sample quality red and white wines. Roughly halfway through your tour, your guide will give you several options for lunch (own expense).First winery is family-run winery in the
UNESCO-listed village of Aranjuez, surrounded by vineyards and olive
trees. The estate is also home to a butterfly farm — one of the largest
in Europe.Second one is a fourth-generation winery located on the site of an ancient
Franciscan monastery. Produces a variety of red, white, ros, sparkling
and dessert wines.Third one is a family-run winery located in one of the most traditional winemaking villages near Madrid. Boasting 44 acres (18 hectares) of organic vineyards, the estate produces wine from grapes ripened in traditional clay vats.Please note that this itinerary is an example only and may be subject to change.