Small-Group Wine-Tasting Tour through Napa or Sonoma Wine Country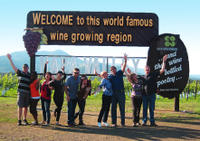 Discover the wineries of Napa, Southern Sonoma or Northern Sonoma on a 6.5-hour wine tour with an expert guide and a small group of wine enthusiasts. Youíll sample great Californian wines at four tasting rooms and enjoy a picnic lunch at one of the wineries. Your guide will share stories about the region and its wines as you travel through gorgeous countryside dotted with vineyards and small towns. This small-group tour is limited to 14 people, ensuring personalized attention from your guide.After pickup from your hotel, you'll set out for the wine country of Napa, Southern Sonoma or Northern Sonoma, depending on which option you choose. Your 6.5-hour tour stops at four wineries for tastings (own expense) and includes lunch. With a focus on smaller, often family-owned wineries, your small group tour will give you a personalized experience of the valley. Your guide will customize the itinerary based on the best wineries available that day. Informative and entertaining commentary from your guide will add to the day's fun. If you choose the Napa option, you'll visit the Carneros wine region where the finest cool-climate Pinot Noir, Chardonnay, and Sparkling wines are produced. The Palisades Mountains create a dramatic backdrop to the valley, and mountain top vineyards, geysers, and tall peaks like Mt St Helena add to the striking beauty of the region. Napa Valley is also known for full body reds such as Cabernet Sauvignon and Zinfandel.The Southern Sonoma Valley sits on Napa's western flank. The Sonoma tour will take you to the towns of Sonoma and Glen Ellen in the warmer parts of the valley. Old-vine Zinfandels have been cultivated here since the 1850s, making it the birthplace of California's wine industry. Cabernet Sauvignon, Merlot, and Chardonnay varietals are grown here, with newcomers like Malbec and Syrah gaining ground. The Northern Sonoma Valley option visits the westernmost part of Sonoma Valley, closest to the Pacific Ocean. The marine fog makes for a cooler climate, a long growing season, and excellent Pinot Noir and Chardonnay. You'll go through Rohnert Park, Santa Rosa, Windsor and Healdsburg on this option. A tasty picnic lunch will be served at one of the wineries and includes
deli sandwiches on croissants, a pasta or quinoa salad, sliced fruit,
dessert and bottled water. Throughout the day, youíll have a cheese
platter and bottled water available on board your comfortable minicoach.