Santa Rita Wine Tour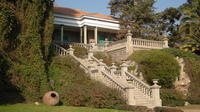 Santa Rita wineries were founded in 1880 by Domingo Fernandez Concha.In order to make their constructions possible, french technology was introduced. This winery is located in Alto Jahuel, one of the oldest cellars in Chile.Join this 4-hour tour and visit Santa Rita's Wineries.Starting at 8am with a hotel pick up or from a meeting point if your hotel is not in the districts of Providencia, Las Condes, Vitacura and
Santiago Centro, get ready to start your day visit this historic winery.Founded in 1880 by Domingo Fernandez Concha, this winery used french technology to make its construction possible. In the basement, the best wines of the vineyard ages and matures. Some examples of this beautiful wine are Casa Real and Medalla Real Cabernet Sauvignon.