Penfolds Magill Estate Tour and Wine Tasting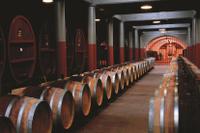 Visit Penfolds Magill Estate for a tour and tasting at the winery that made Australian wine famous. Learn about the history of the winery on a guided tour of the grounds that takes you through the bluestone cellars, the underground tunnels, and the vineyard before you sit down to enjoy a wine tasting. Choose for the luxury option with five wines, or the premium option with six of the estateís finest wines, including the renowned Penfolds Grange.Make your way to Penfolds Magill Estate, located in the scenic Adelaide Hills region an easy 20-minute drive from the city. Upon arrival at Penfolds Magill Estate, meet your host for the winery tour at the tasting room (aka cellar door). Penfoldís winery started in 1844, around the same time that nearby the city of
Adelaide developed. Hear about this history and more as you follow your host on a personalized tour of the historic winery. See the underground tunnels where millions of dollars worth of wine is aged and stored. Look around one of the heritage-listed bluestone cellars and stop at Grange Cottage ó the original home of the wineryís founders, Dr. Christopher and Mary Penfold, then walk over to the shiraz vineyard that was planted in the late 1940s. After an informative tour of the grounds, enjoy a wine tasting with your host. Choose from two options (see Important Info tab for pricing) for the wine tasting when you book your tour. The standard tour option includes a tasting of five luxury wines from the Penfolds portfolio, conducted in one of the private cellars on the estate.Upgrade to the premium wine-tasting option and get the opportunity to taste six premium wines, including the legendary Penfolds Grange, Australiaís most prized wine. Your tasting, which is paired with superb regional cheeses, takes place in an elegant room in the cellars. After your tour and tasting, you are free to stay longer at the winery or make your own way to your next destination. Taxi service is available so that you don't need to worry about drinking and driving (at own expense).