Food and Wine-Tasting Tour of Waiheke Island from Auckland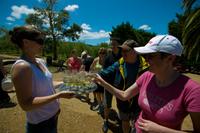 Sample the bounty of Waiheke Island on a 4-hour food and wine tour that visits Stonyridge Vineyard, Wild On Waiheke, Mudbrick Vineyard and the Rangihoua Estate. Hop off your ferry from Auckland for lunch, followed by a sampling of wine, beer and olive oils. Nestled in the Hauraki Gulf, Waiheke has the ideal micro-climate for growing grapes and olives. Discover for yourself why Waiheke is renowned for producing some of New
Zealandís most acclaimed artisan wines!Board your ferry at Aucklandís Ferry Terminal for a relaxing 40-minute cruise to Waiheke Island, a bucolic combination of farmland, forest, beaches and seaside villages. You might think youíre in France when you see the vineyards, olive trees, and lavender fields!Upon arrival at the island, youíll be greeted by your tour driver and taken by air-conditioned coach to Stonyridge Vineyard, one of Waihekeís first wineries and a specialist in Bordeaux-style red wines. Enjoy a tour of the vineyard followed by a wine tasting and light lunch.After lunch, youíll head to the award-winning Rangihoua Estate for a tasting of their olive oils. See the olive orchards and a demonstration of harvesting techniques, then learn about the process of making extra virgin olive oil. Finally youíll sample a variety of olive oils in the estateís tasting room.Next youíll move on to Wild On Waiheke, a vineyard that also makes micro-brewed beers and showcases locally produced olive oils and preserves. Youíll be offered samples of their wines, beers, olive oil and preserves during your visit. The last stop on your tour takes you to Mudbrick Vineyard, a winery and restaurant with stunning views overlooking the Hauraki Gulf. Savor the final wine sampling amid lush gardens and vineyards. At the end of the tour youíll have the option to return with the tour bus to the wharf for a late-afternoon ferry ride back to Auckland. Alternatively, you can choose to stay on the island and return at your leisure. Youíll be provided with a complimentary All Day Bus Pass that allows you to further explore Waiheke Island on the public bus. Ferries to Auckland run until late in the evening; check the schedule for details. You may not want to leave after you get a taste of the fine food and wine of Waiheke!