Bottleneck Drive Wine Trail Tasting Tour from Kelowna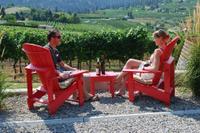 Get to know the wines of the Okanagan Valley's Summerland region on a Bottleneck Drive wine tour, a favorite for first-time visitors. Youíll sample a range of wines as you visit a mix of newer and more established wineries with a friendly group of fellow wine-lovers. All tastings, lunch and transportation are included, leaving you to relax and enjoy the day!After morning pickup at your hotel, you'll set out with your friendly professional guide for a fun and laid-back tour of five Okanagan Valley wineries. Traveling by Luxury High Top Mercedes Sprinter (or similar) about 30 minutes south along Okanagan Lake, you'll arrive at the Bottleneck Drive wineries, located around the small town of Summerland. Enjoy more than 25 wine tastings and a tasty lunch, all included, during your tour with a group of fellow wine enthusiasts. Youíll visit up to five of the following wineries: Dirty Laundry, Sonoran, Thornhaven, Sleeping Giant, Sumac Ridge, 8th Generation, Heavenís Gate, and Greata Ranch. Throughout the day, your guide will share insider information about the region and its wines. Youíll also be provided with a winery 'passport' ó after collecting
stamps at five wineries you can enter a drawing for a chance to win a
gift box of six wines! Midway, you'll stop for a delicious lunch at a winery or fine restaurant over looking the beautiful Okanagan Lake. You'll have a choice of items such as sandwiches, wraps, pasta, soup and salad, all made with fresh and local ingredients. With insights from your local guide and visits to great wineries, you'll have a blast while finding your favorites among the Okanagan Valley's many fine wines.