Black Sage Wine Tour from Osoyoos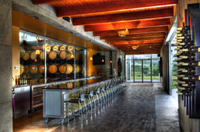 Explore all that British Columbiaís wine-centric Black Sage Bench has to offer on this 4.5-hour wine-tasting tour from Osoyoos. Following the scenic Black Sage Bench wine route, learn about the region from your guide and visit four wineries for tours and tastings. Enjoy ample time at each place to sample wine, explore the grounds and admire the vineyards that characterize this picturesque section of south-central British Columbia.Okanagan Valley (oak-a-NOG-in) is the second-largest wine region in Canada, and itís not new to the business: wine
grapes have been cultivated in the area since 1850, and many popular
varietals are grown here. On this 4.5-hour wine tour, travel up the Black Sage Bench route from Osoyoos to Oliver, stopping at four wineries along the way to sample wine and explore the grounds. The order of winery visits may vary, but below is a sample itinerary. You'll also pass some historic sites such as Haynes Ranch, once home to one of the South Okanagan's most influential families.Start at Platinum Bench Estate Winery & Artisan Bread Co, a beautifully situated winery that produces distinctive hand-crafted wines. Taste their signature red and white varietals paired with rustic bread, baked on site.Head next to Stoneboat Vineyards, a family-owned-and-operated winery that started in the 1980s. The top varietals here are pinot gris and pinot noir, so be prepared for a refreshing dose of light but high-quality wine to hit your palate. While here, you might want to splurge on a bottle of ice wine, a regional specialty. Church and State Wines, the next stop, is all about balance ó thus the name. Whether itís the award-winning reds or the crisp whites, the vineyard is a fun place to sample wine. The outdoor wine sampling bar is perched along Coyote Bowl, offering magnificent views of the landscape. Burrowing Owl Estate Winery, one of the largest around, is the final stop. It boasts a sophisticated restaurant and boutique hotel. The owners, the Wyse family, have produced some of the highest quality wine in the area since they founded the winery in 1993. Sample some wines and climb the bell tower for panoramic views.At the end of your Black Sage Bench wine-tasting tour, youíll be dropped back at your hotel in Osoyoos.