2-Hour Amarone Wine Tasting Valpolicella Classico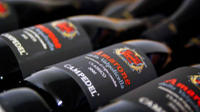 Join this wine tasting tour at a family owned cellar in the Valpolicella region (Verona). Have a guided itinerary through the vineyards and inside the cellar to learn about the traditions and the wine production process. Sample 4 Valpolicella wines, including Amarone (a typical Italian dry red wine, produced only in the Valpolicella region).2-hour wine tasting tour at a family owned wine cellar of the Valpolicella Classico wine region.The Valpolicella wine region, located close to the beautiful city of Verona, is known for its hilly territory. The land is dotted with historic cellars, beautiful villas and it is at its best during the cherry blossom season. During this wine tasting, you will be given an introduction to Valpolicella wine, see the cellar then sample 4 different wines.This family is devoted from generations, with great passion and competence, to the cultivation of grapevine. This family run company looks after all the various production stages, from the actual planting of the vines to the processing of the grapes, the wine production and the bottling process. The high quality grapes are perfect for producing unique wines thanks to the particular soil. The wine tasting is accompanied by typical local products and you will sample the following four wines:
Valpolicella Classico,Valpolicella Classico Superiore Ripasso
, Amarone, Recioto
.